Parkside Village Mississauga is a grand new development built by Amacon. Parkside Village aims to transform the face of downtown Mississauga in a positive way, ushering it into the future of urban living. The concept utilized within this development is known as an "Urban Village" The idea was recently implemented in Toronto's Concord Cityplace project and is becoming the trend for large scale city expansion, even in downtown Mississauga, competition is heating up with Rogers Real Estate Development's M City Condos project. The latest large scale multi-phase development in downtown Mississauga is the Square One District condos project, an interesting alternative option. This article will delve into the intricacies of this project, the different buildings, amenities and various layers of information. It's useful insight for people who enjoy architecture, or for potential buyers looking for condominiums within Mississauga. Parkside Village offers an amazing selection and you can always contact us for even more information or to help you with your move.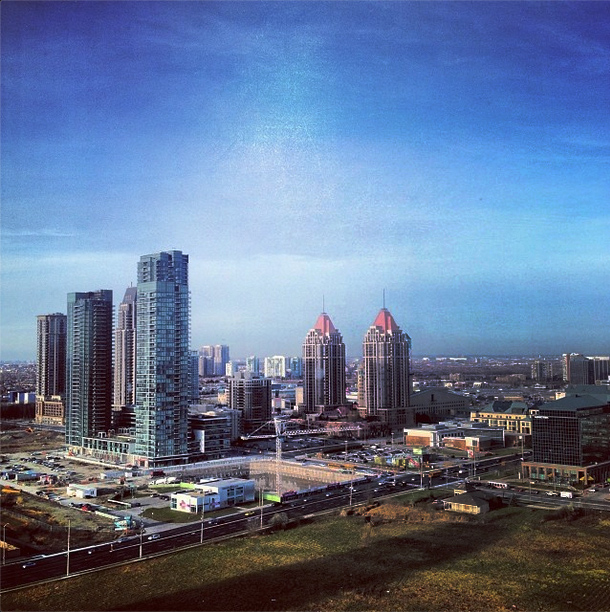 Urban Village
The concept of an Urban Village relates to economies of scale. As populations are growing at faster rates, condominium builder powerhouses need sustainable developments. As opposed to individually crafting smaller plots of land into varying residence towers, this new trend takes larger land spaces and combines them into a "village" of high-rise condominiums. This is exactly what Amacon did with Parkside Village. There are several advantages to this approach. It allows city residents to get a perception of the big picture, what are those acres going to look like at the end of this multi-year project rather than seeing it building by building. It also breaks down to people and the infrastructure to support such a population in a small space. The planning of an entire village allows for proper allocation of parking, transportation, green space, entertainment and amenities amongst other items.
Parkside Village Condos
If you're interested in buying/selling a Parkside Village Condo, contact the professional, Ivan Ciraj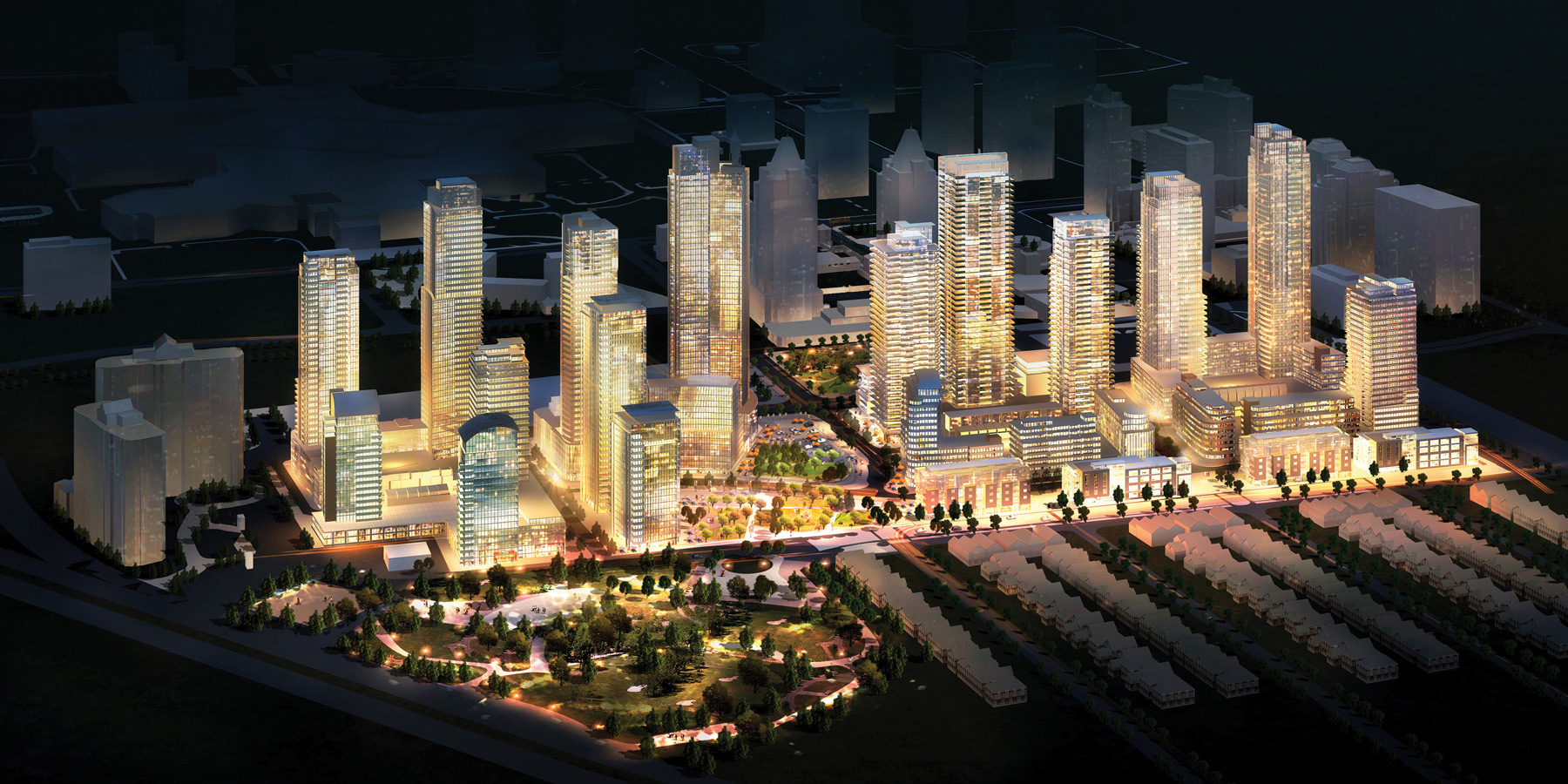 Parkside Village // What exactly is it?
This is going to be an in depth review and insight into this new, defining portion of downtown Mississauga and the Square One area. Parkside Village is located at the main intersection of Burnhamthorpe Road West and Confederation Parkway. It stretches north from here up to Rathburn Road West and covers a total area of approximately 30 acres.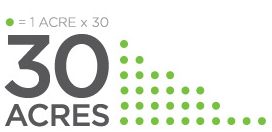 Parkside Village is composed of a variety of different condominium structures. These are all oriented into sub communities depending on the specific lifestyle and décor palette Amacon designated for each section. Overall the entire community is composed of 10 low rise, 12 mid rise and 15 high rise condominiums. These are all stacked and incorporated into a design scheme which is logical and emphasises viewpoints as well as soothing skyline impressions.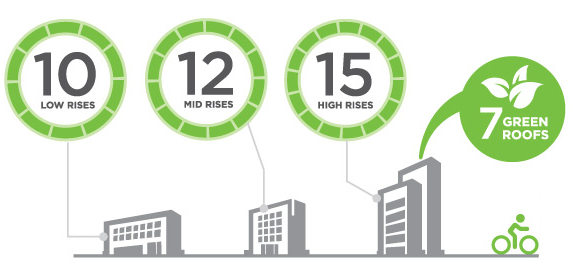 As one would expect, this is a large concentration of buildings in a small space. The developers behind Parkside Village knew that both the city residents and future condominium occupants wouldn't appreciate a concrete jungle. Therefore three parks were balanced into the overall design. To further the environmental efforts even more, green roofs have been implemented wherever possible. These help not only to create more green space within the city, but also to offset energy cooling costs during the hot summer months.

Location, Location, location!
The location of Parkside Village is fantastic. Located right in the heart of the Square One and downtown Mississauga area. The entire community takes up a total of 11 blocks. The map shows how the blocks are divided into the various individual buildings, which are outlined further in the article. (Parkside Village is a currently still being built, as the developer releases plans, the map above will be updated, currently only the three coloured sections are available).

11 blocks of city space is a substantial amount. Included in this are 6 block faces dedicated to commercial entities. This means lifestyle! The entire Parkside Village community is taking influences from European dynamics. Oriented towards walking and social gathering spaces, the commercial portions will allow restaurants, businesses and possibly entertainment venues to seamlessly integrate within the residential portions. We see this European styled social layout in areas like Streetsville, Port Credit and Downtown Oakville. With Parkside Village, it will have elements of these other neighbourhoods, but combined and finished with a contemporary styling given the glass, steel and concrete construction, with also the benefits of being in the heart of the city. A modern example of this philosophy is in the BO01 neighbourhood in the city of Malmö, Sweden. Although composed of low rise condominiums, the architects utilized a layout focused on social interaction, futuristic inspired construction and an environmentally responsible approach, similar to that of Parkside Village.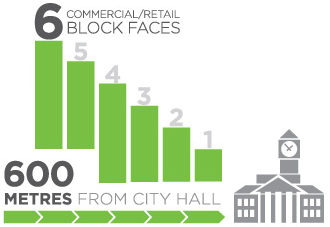 With 6000 condominium units, the population results are staggering. To properly organize the infrastructure of the project, 7 entrance points were utilized. This is critical as the focus may be on green transportation such as biking, but the majority of people within Mississauga still commute by car. Parkside Village I'm sure took lessons learned from the Absolute Condominiums which proved two entrance points are not sufficient to maintain good traffic flow. The focus on various street-scape design is also important so we are not left with a boring, repetitive design. This is the overview of the entire Parkside Village project, now we'll dive into the specifics of each of the distinct buildings within. (Again, only limited information is available as Amacon has not released plans of the entire project at this point).
The Condos
The Parkside Village community is divided into blocks as previously explained. Each of these blocks features a group of condos with its own distinct style. As of the writing of this article only three sections have been released with full details. Below you will find the buildings explained in group form as they share common elements and décor styles based on their block section.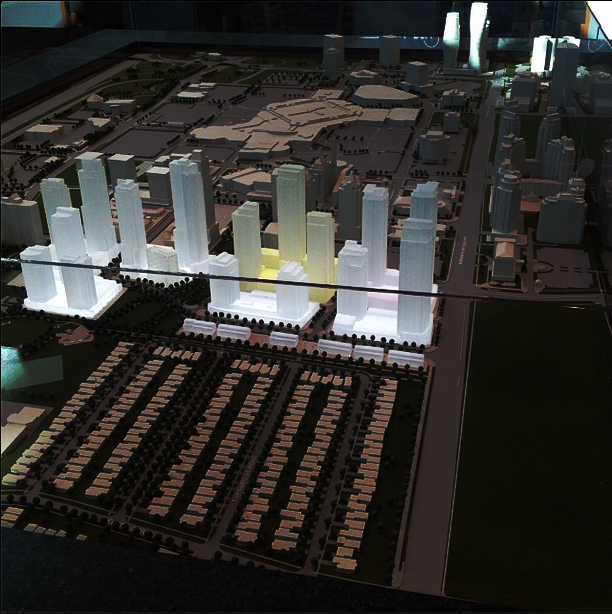 Block 8
Located within this section are three high rise condominium towers. This is the first sector of Parkside Village to be completed and features beautifully designed, glass and concrete rectangular towers. They are all joined by a common podium structure and share a 50,000 square foot recreation facility. The buildings are known as The Residences, The Park Residences and The Grand Residences. These condominiums feature a highly variable design scheme making them desirable for a large demographic of potential residents.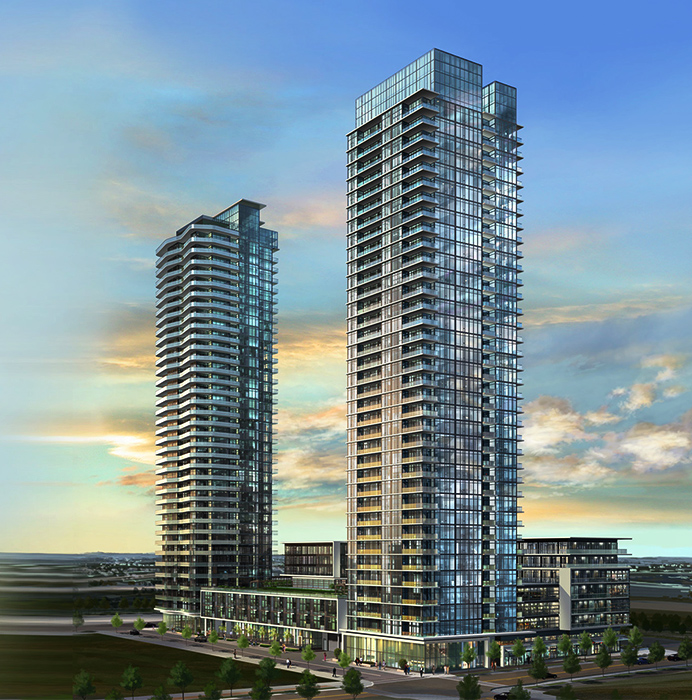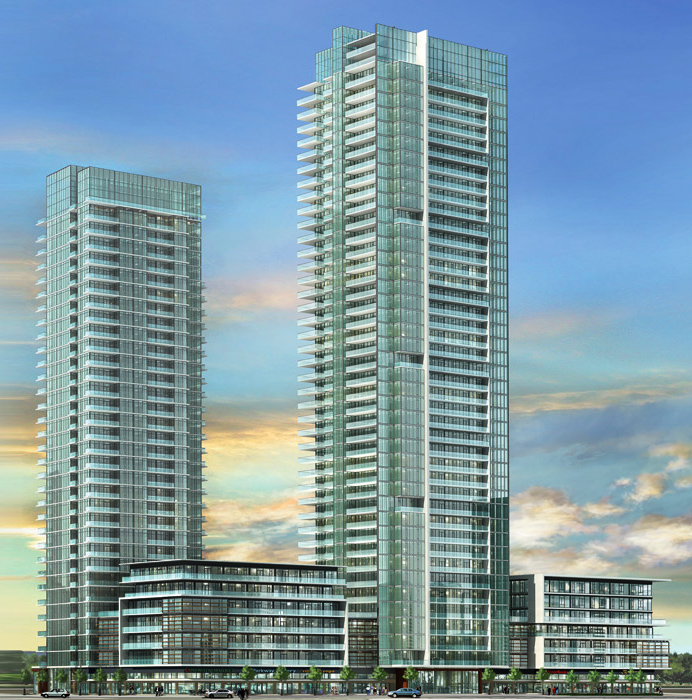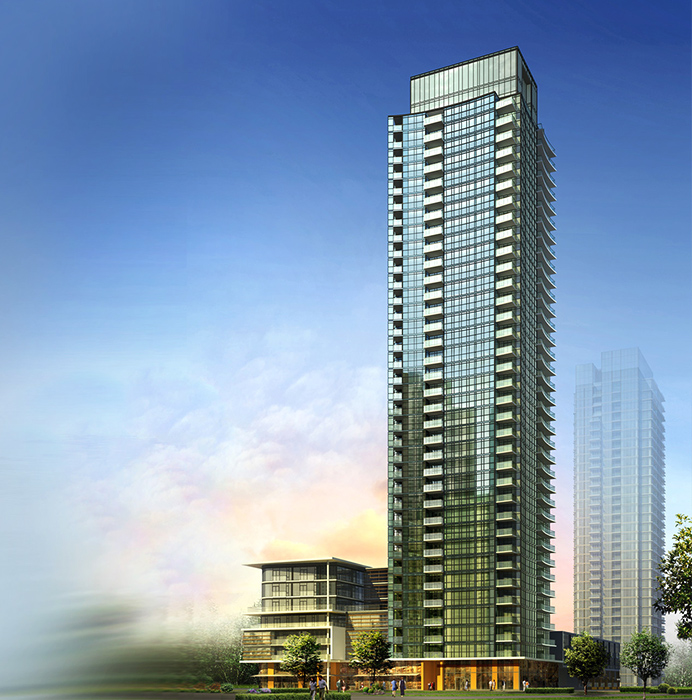 This section of Parkside Village is nearly finished at the publishing date of this article, The Residences at 4065 Brickstone Mews are already fully completed. The styling for the exteriors of the buildings is definitive on the Mississauga skyline. Clean lines are utilized and the height makes them pronounced. Definitely the most modern looking buildings even when compared  to the Marilyn Monroe Condos. The interiors feature great finishes ranging from light to dark shades, various wood choices and gloss plastics which evoke a hint of combined traditional but also contemporary influences. The target audience is fairly generic. This helps explain why they were the first stage completed from the Parkside Village community. This way Amacon can garner interest with a product that appeals to a broad percentage of people. When it breaks down to the individual buildings, The Residences and Grand Residences portray the more modern and sleek finishes whereas The Park Residences carry the slightly more traditional palettes which almost give a hue of European Tuscan inspired design.
Examples of these design implementations can be seen in the model suite gallery provided. This block and combination of buildings within Parkside Village share a communal recreation facility. All the standard amenities you would expect are included. Rooftop terraces, pool, gym, entertainment rooms, fitness centres, libraries, guest suites, secured parking and many more are included to help bring the lifestyle within Parkside Village to spectacular heights.
Block 7
This section of Parkside Village is currently as of this posting going through the excavation phase. It is personally my favourite development thus far in downtown Mississauga. This block is comprised of two high rise condominiums named the PSV Condos which stands for Posh Style Vibe. Design principles are reminiscent of the ONYX Condo which was built a few years ago. The PSV condos utilize a dark, luxurious, brooding and contemporary set of elements to induce a sense of elegance and well… posh, style and vibe to Parkside Village.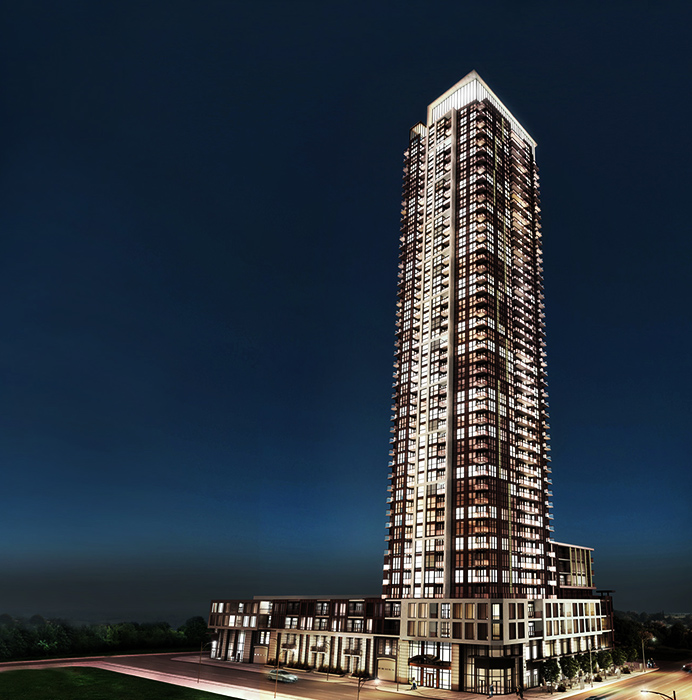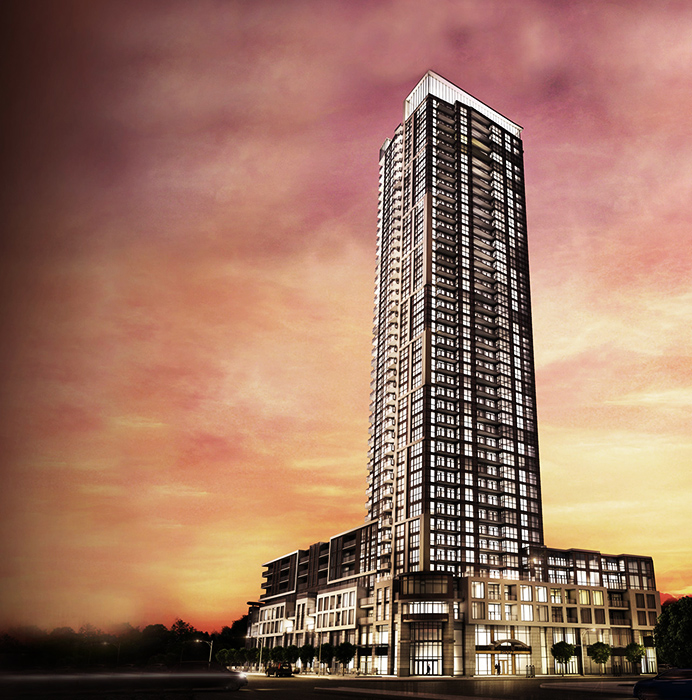 Whereas the initial stage of Parkside Village was meant to appeal to a broad spectrum of people, PSV and block 7 are far more focused on a specific demographic and lifestyle blend. The suites are finished with darker options which give it a more chic appearance. There are iPod deck integrations into the walls themselves for entertainment purposes. The entrance imbues a hotel vibe and the entire building has an atmosphere similar to the Bisha Residences in Toronto, although not quite as opulent. But luxury is a key principle here, clearly the target audience is Mississauga's growing, hip young population of successful individuals. Once completed it will form a beautiful architectural landmark on a prominent downtown intersection. I'm really excited to see this part of Parkside Village completed.
The features and finishes within the two PSV condominium towers are beautiful. Exotic materials are embraced such as faux reptile skin on walls, dark granite counters, gloss finished cabinetry, coffered wall panels and many other details that make PSV a unique part of Parkside Village. Compared to the Block 8 condominiums, these ones have a very distinct personality. PSV also has its own amenity centre which includes every sort of recreational escape you could imagine. It also forms a great stage for social interaction with fellow residents.
Blocks 3 / 4 / 5
Amacon had to implement something completely different into the Parkside Village development. Something that would attract families and people looking to get that Urban Village, downtown Mississauga experience, but also wanted more space. The solution was to construct a section of townhouses alongside the standard condominium tower residences. And so The Towns were born, the latest part of Parkside Village to be introduced. Styling and finishes match the modern appeal of the other residencies within the community.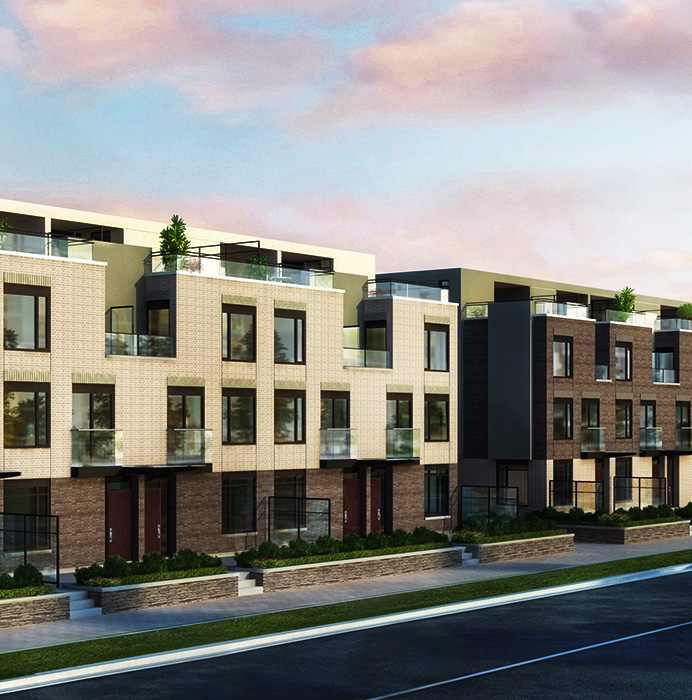 The story so far
Parkside Village is a massive development still in progress. The idea was conceptualized back in 2003 and should be completed within the next several years. Amacon in the meantime added three other stunning condominiums to Mississauga, known as the Eden Park, Elle and Eve condos located between Kariya Drive and Hurontario Street. As new portions are released within Parkside Village, more information will be published here on SquareOne life. If you're interested in purchasing a condo at Parkside Village or in Mississauga, feel free to contact us, I'd love to help further!