Holt Renfrew Square One is the spectacular new addition to the Holt Renfrew brand. The luxury retailer is opening its flagship store right in the heart of downtown Mississauga. Square One Mall has just completed an $84 million renovation upgrading the interior sections of the mall. This included the food court, escalators and common areas. Now the mall is expanding its investment into revitalization with the addition of Holt Renfrew Square One.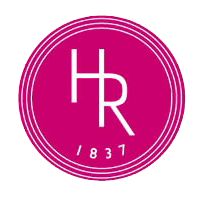 The Holt Renfrew Square One store construction is scheduled for completion by Spring 2016. It will total around 120,000 square feet and will be located on the south western corner of Square One Shopping Centre. This flagship addition will also usher in a total of 75,000 square feet of retail space for other retail/commercial entities. This is all part of a $320 million renovation investment for expanding the mall and restructuring the surrounding streets to make our downtown core more "city-like". The architects utilized for this development are Janson Goldstein of New York. They have many retail design projects under their belt and are the suppliers of the rendering images utilized in this article. With the addition of Holt Renfrew Square One, there will be additional subterranean parking garages excavated and also the addition of a new street; Main Street as illustrated on the map.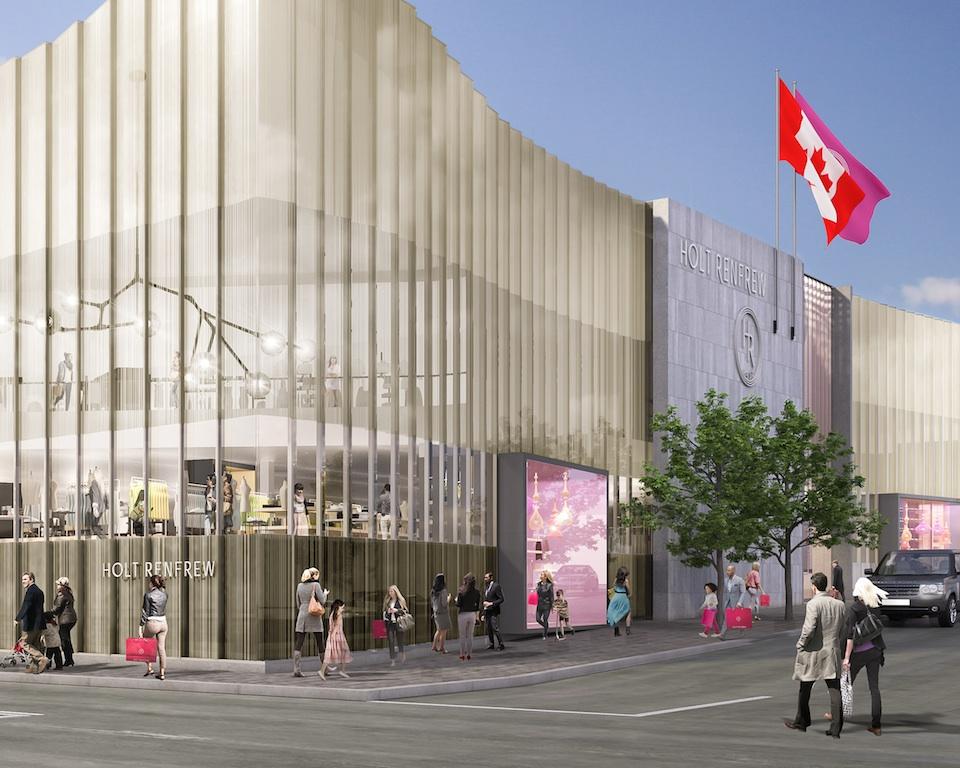 The map illustrations for the Holt Renfrew Square One expansion are approximate but should give you an idea of the layout. The grey rectangle represents Main Street, the green represents a new park which will be inplemented and the fuchsia gives an outline of the approximate new retail expansion. Currently the entire area is undergoing excavations, ideally my office is located at the future intersections of Main Street and City Centre Drive.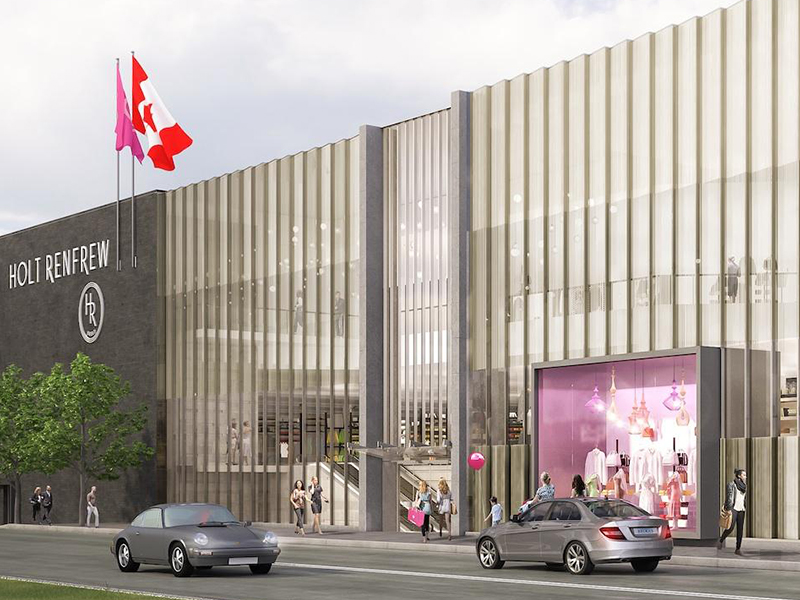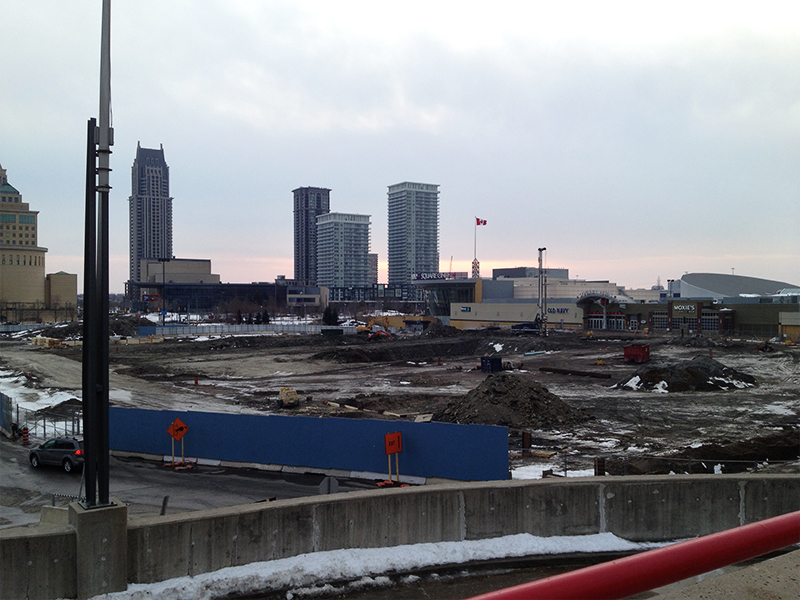 Holt Renfrew Square One is just part of the expansion which the mall is currently developing. The north side of the mall is receiving a face lift and added space as well. A rendering has been provided courtesy of Oxford Properties, the people behind the mall. This expanded section will also help usher in the Simon's retailer into what used to be Sears. This will be their first location outside of Quebec.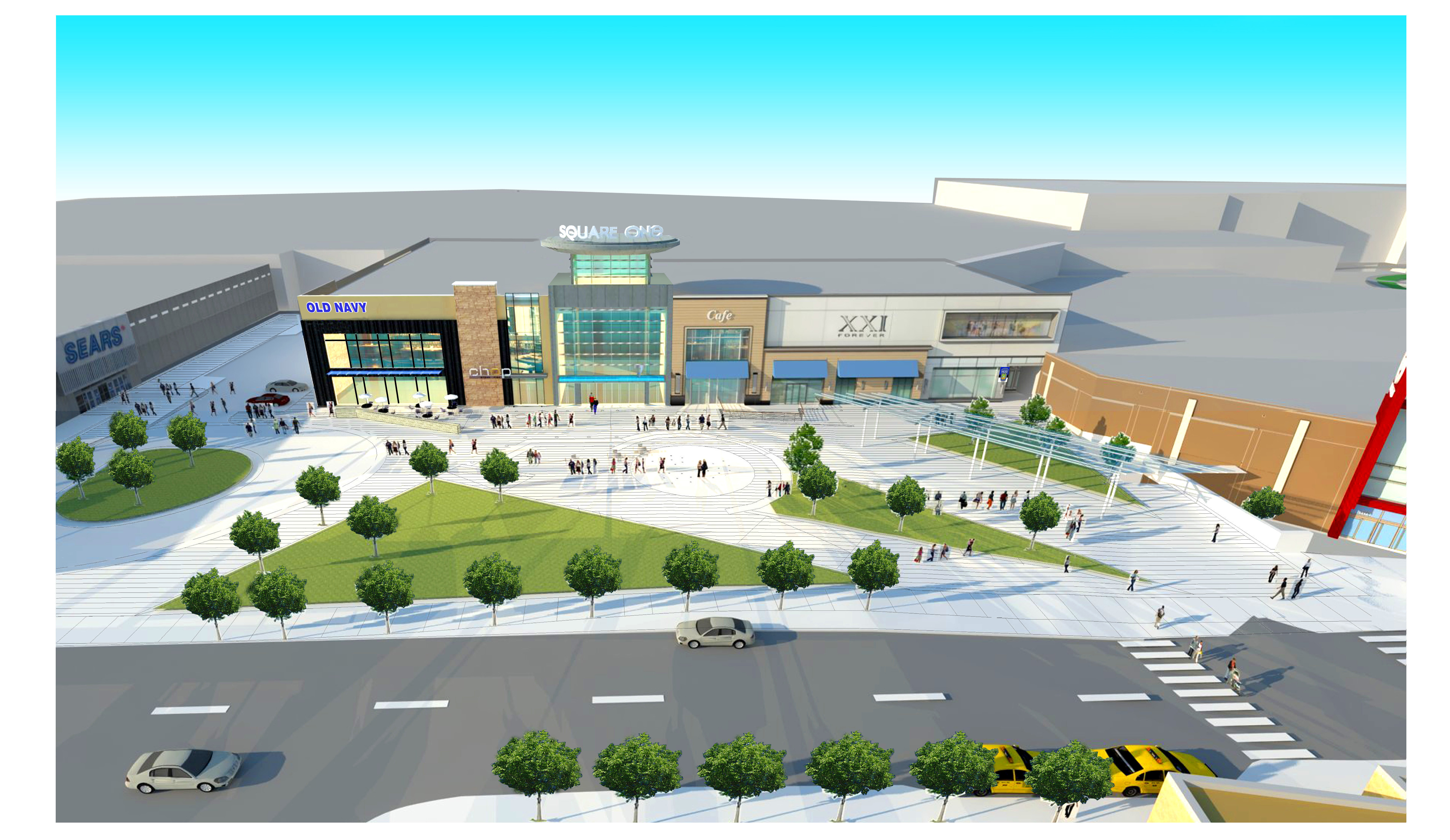 This new progress and expansion is exciting, the planners are really working on transforming our city centre into a more "downtown" like location, with entertainment, great architecture and a pedestrian influenced approach. Holt Renfrew Square One will compliment and add a flair of luxury to the whole undertaking. The huge Parkside Village Condo development will also add many new residents and business for all the local retailers and venues. From a real estate perspective, it'll mean value appreciation and more condominium construction. I'm located right in the heart of it all, feel free to contact us for any questions or real estate services.